Introducing ...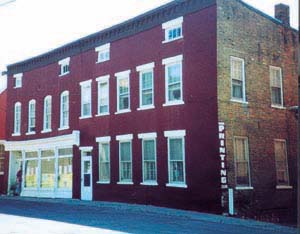 Moore Printing Co., Inc.
THE EARLY YEARS: Moore Printing is a family-owned print shop that has been in business since 1929. The business, at that time known as "Canfield & Moore", was owned by Albert A. Moore and Lewis D. Canfield, and was housed on 9 Niagara Street in Canandaigua. Albert's brother, Fred was also employed in the business at that time. In 1945, Albert's son, Burton Moore, came to work at the print shop following his tour of duty during World War II. Mr. Canfield passed away in 1953 and Albert became sole proprietor. The business then became known as "Moore Printing Company".
THE MIDDLE YEARS: In 1952, the business moved to our present "home" -- a circa 1870's building on Coy Street in downtown Canandaigua. Albert, Fred and Burton were soon after joined by Albert's grandson, William "Twisty" Sinton. Moore Printing Company continued to prosper in its present location. In 1967, Albert Moore passed away, and his son, Burt, inherited the business. As the business grew and technology evolved, various positions, such as offset pressmen, office personnel, composition and pre-press jobs were added. In 1983, Burt's daughter, Donna (Moore) Miller joined the crew as office manager. The business incorporated in 1985, and Donna became Secretary-Treasurer while Burt filled the office of President. Sadly, Burt passed away in 1995. At that time, Donna became President of the corporation.
TODAY: Currently, our Moore Printing family consists of three employees: Donna Miller, shop manager/president (38 years of service); Janine Dean, graphic artist (37 years of service); and Tom Pauly, press operator (7 years of service).
We offer all types of commercial and personal offset and digital printing including (but not limited to) business forms and stationery, menus, brochures, booklets, invitations and carbonless forms. We also offer promotional products, banners, rubber stamps, name badges and signs, and wedding, graduation, birth and social announcements. Our pre-press services include design and typesetting. The post-press services include folding, collating, saddle-stitching, padding and trimming. We even have a Heidelberg Windmill letterpress that is used for perforating, numbering and die cutting. We strive to keep our prices very competitive, and pride ourselves on our commitment to service and quality. Our dedication to our customers is second to none!
Our philosophy has always been to support the communities and individuals who support our business. Therefore, we donate time and/or printing services to many local organizations and fund raising events. Also, our staff members serve in many volunteer positions in the greater Canandaigua area.
We are a charter member of the Hammermill Paper Small Commercial Printers Alliance, and are proud to say we've been a Canandaigua Chamber of Commerce member since February 1950.
How to Contact Us
9 Coy Street
Canandaigua, New York 14424
585-394-1533
Fax (585) 394-1255
e-mail: orders_mpc@frontiernet.net
Hours of Operation:
Monday - Thursday 7:30 a.m. - 5:30 p.m.
Friday 8:00 a.m. - 4:00 p.m.